"Good Hair Was All She Wanted" is without question the most shocking hair story in the 10 year existence of going-natural.com's but also in the history of youtube. The almost 4 minute video is in fact a slideshow that tells the hair story of a woman whose scalp was mutilated by a chemical relaxer that was suppose to straighten her natural hair. Although the video was posted to get out Isabella's story and not to make any judgment on the process of relaxing, the images of the trauma on her scalp are so hearth wrenching and shocking that it is almost impossible to stay impartial. People are commenting left and right on the clip of this beautiful woman who was courageous enough to share her hair story and back it up by showing her mutilated scalp with no shame. Yet, very few understand the personal drama behind the scenes. So here is Isabella's Hair story.
Where others dream of becoming a model, Isabella was discovered by a photographer in Geleen, a small town in the Netherlands where she grew up. After moving to Aruba, a friend invited the traffic stopping beauty to Chicago to pursue the American dream because he believed she had what it takes to become a top model.
Pictured by local top fashion photographers and featured in the Chicago Defender, one might say she was well on her way, when the dream abruptly came to a halt and even turned into a nightmare.
Following the advice of a photographer, Isabella went to a hair salon to get a touch up. The model who was not new to perms instinctively knew something was wrong the minute the relaxer touched her hair. The straightening cream started burning her scalp furiously almost immediately after applying, not like any time before. When she complained the stylist advised her to "just hold on a little longer."
Any women who've ever had a perm can relate to holding on a little longer, just to make the hair a little straighter. It's suppose to be worth it. After all pain is beauty. So it was only when the Dutch model started crying that the hairdresser took her complains seriously and rinsed out the relaxer but it was too late. Isabella's scalp felt like a thousand needles were pinned into her scalp.
Convinced by the hairdresser that this was "normal" and the pain would subside the model left the salon believing everything was going to be ok. Raised in Holland suing the salon didn't even cross Isabella's sober Dutch mind as suing after a bad service like in the US is not common practice in the Netherlands at all.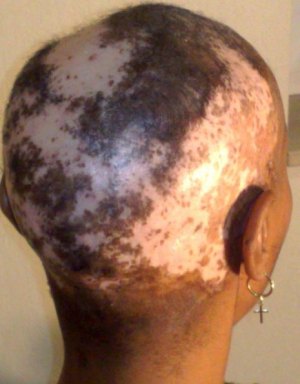 Read our first interview with Isabella Isabella sent these photos to me made with her phone.
When she was in pain nearly one month later she flew back home to the Netherlands to find out what was wrong because that is where she had health insurance. Although her scalp was inflamed she still had a head full of hair and a whole lot of hope when the doctor took a biopsy. All the beauty's hope faded when the doctor explained to her that the relaxer initiated a phototoxic reaction that caused a chemical burn. Not only would she lose all her hair but her hair would never grow back. To stop the chemical burn Isabella needed to do chemo. Yet, the drama didn't end there.
The magnitude of her situation only began to sink in when she realized she couldn't do without special hair replacements that cost a fortune. After going from one doctor's appointment to the next, the now former aspiring model ended up with a scalp that was so mutilated that it needed special prostheses wigs to protect her thin sensitive scalp from the outside world.
Sad, broken and devastated Isabella tried to seek compensation from Lloreal, the company she claims is responsible for the damage. A few lawyers, many more biopsies and 12 years later she gave up the court battle. The fight to seek justice in the court of law had become mentally unbearable. Since she had nothing to lose, any hope of getting compensation was gone, she came out with a book entitled Because I wasn't Worth it!
Today the former model is living in Belgium close to the border of Holland.
The video created to illustrate Isabella's story "Good Hair was all she wanted" refers to a chapter in her first book published in Holland. In the book named "Kaal uit een potje" Isabella describes one of her lowest points in life. Besides being in pain not only does she have trouble finding the right wigs, angry and frustrated by emotions he didn't understand Isabella's boyfriend breaks the only wig she had. In the midst of all the pain, anguish and heartache Isabella's one thought was: non of this would have happened if I had had good hair.
You can read a follow up at Isabella Broekhuizen after the relaxer damaged her hair and scalp
You can order Isabella's book Because I wasn't worth it
For the Best Natural Hair and Loc Products
Shop at What Naturals Love.com