When Sabine Bellevue from Sabine's Hallway Natural hair Salon told me how she was going to start the new year, I was immediately fired up. Miss marathon trailblazer was about to start the new year of course, running!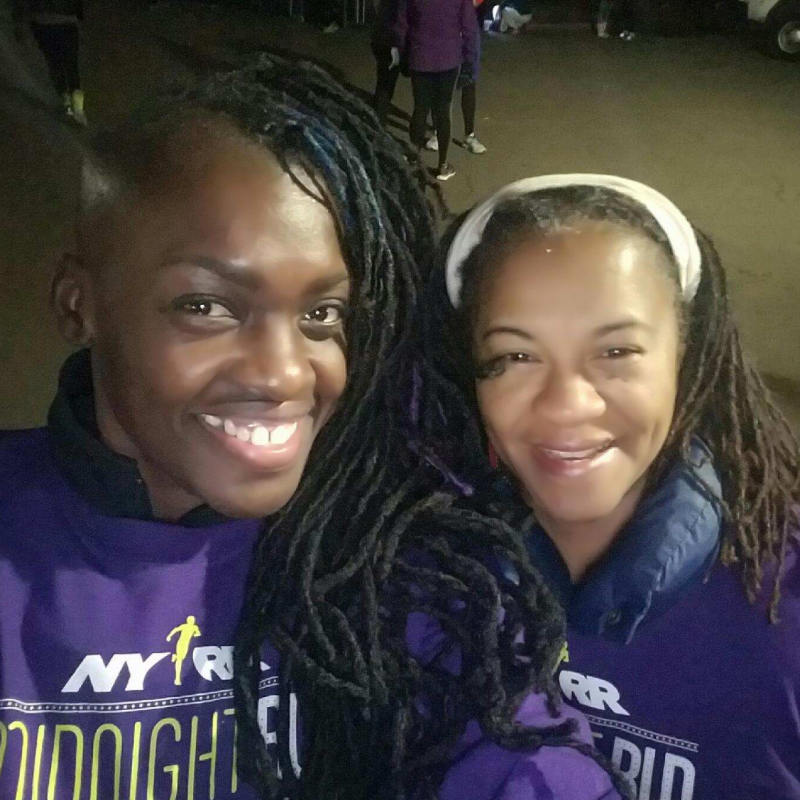 It was not just a metaphor. The New York Road Runners (NYRR) have been organizing the Midnight Run in Central Park since 1978. It used to be a three mile run but this year they added an extra mile. Yay, lucky me!
I haven't had a decent run in two years since my knee started acting up. Still I was lucky because dealing with an injury, Sabine needed to take it easy and planned to walk instead. Walking four miles wouldn't be a problem for me because I love walking and since I stopped going to the gym, I started walking even more. So, what a great idea to start a new year or so I thought.
The midnight run is really a fun thing to do. It starts with live music and a costume party at 10 pm. Yes, these people run in costumes. I saw it myself. Runners also get a chance to make their goals for the new year public, writing them on the #ResolveToRun wall.

Sabine showing off her cool outfit at the #ResolveToRun wall – Read more about Sabine Bellevue

When I heard about this race on the 30th, I wasn't even aware of all these fun things to do, let alone prepared. After I managed to get a ticket and learned at 9:30 pm that I needed to get my bib before 10:30 pm, I put on two layers of sports gear and ran out. My main goal was to get there and not freeze to death. The weather was very nice though. Pretty mild 42 degrees, still I didn't want to take the chance to be cute but freezing cold.
That might have been the last good decision I made last year. Although I felt that I could have chosen cooler running gear, I was very happy with all of my not-so-cool but comfortable layers once in the park.
Sabine, the veteran who did this midnight run for the 7th time and several other marathons ( Natural Hair Salon owner Sabine Bellevue from runs her 4th NYC Marathon), showed me around from the stage to where to get the cool goodies. It was just fun being there. Everybody was in a great mood. Whole families where participating, some in pajamas outfits others in super hero gear. Dads running as Batman with kids trying to keep up. Some costumes where just downright funny.
At midnight on the dot the fireworks began. What a gorgeous sight. In the darkness of the park, between the silhouettes of the branches of trees, you could see colors sparkling in the air. That is when we started moving.
There was so much going on for a moment, trying to go live on facebook, capturing the fireworks and starting the race. The fireworks went on for 15 minutes and then we were well on our way.
Sabine, the Natural Hair Salon Owner who couldn't help herself was determined to run the last mile. Oh, I can certainly do that, I thought. That is only one mile. Then just after praising the weather gods how beautiful it was out there, I felt a drop of hail.
O my, the little girl from the tropical republic of Suriname in me was afraid of melting down but in all honesty, it wasn't bad. After about 5 minutes or so it was over but somehow it made the run heavier. I am not sure if it was because I had to stop to tie my sneakers twice or that I was just so out of shape but the race became trying. More than anything, I needed all my energy to finish that one little mile running. I was totally out of breath.
I slowed down then slowed down some more, my throat felt dry. I thought about just walking. Instead I stopped thinking and kept focusing on one step at the time. Sabine who slowed down too, was cheering me on. I told her to go ahead and don't wait for me but the sweetheart insisted. She answered, no, I need to slow down myself. My body was a lot fitter in my head, I said. So, together we made it running to the finish line. I still had energy left to throw my hands up in the air as if I was Husain Bolt breaking yet another world record.
After catching my breath and doing a little dance, I made my way home exhausted with my legs done and more than ready for a great night sleep. I have to say, I didn't envy the people on the train one bit. Looking at the tired women in their high heels, I knew how they felt. At least as tired as me but far less satisfied with hurt feet and painful shoes on. Been there done that too.
This morning my body is still in place, my legs are good and I feel good! I started the new year doing something spontaneous, something new, something I never did before, making a healthy choice, running into 2017.
And o yes, I broke so many records, I was the first in my family to do this, the first woman in my family to do this, the first in my household to do this and I was in the first ever group of 4,964 total finishers to do this 4 mile run that started in 2017. Is that a good start or what?
So now I am getting ready for the first Going Natural event of 2017: Bad Hair Uprooted: Black Follicles Matter, an exhibition that shoots for justice aiming to change perceptions one shot at the time. The opening is on February 1st. Click to RSVP space is limited.
Happy healthy 2017!
Thank you Sabine!