I've looked forward to this trip since Marie-Josee, founder of Le Mois de l' Afrique, MDA, sent me an invite to be part of their Black History Month celebration on the wonderful island of Guadeloupe.
I've looked forward to this trip since Marie-Josee, founder of Le Mois de l' Afrique, MDA, sent me an invite to be part of their Black History Month celebration on the wonderful island of Guadeloupe. What an honor it was to be listed among intellectuals and other notables from the Caribbean as a speaker for their event "Retour au Naturel". Literally translated Return to Natural.
Landing on Pointe-à-Pitre airport was a sensation in and on itself. Like home in Suriname, a warm breeze welcomed every one walking down the stairs of the small passengers aircraft. I am not sure if it was just because it was Carnival but a band was playing in the hallway of the baggage claim. Gosh! What a welcome! Nothing gets me in the mood like Souk music. Right there and then, I felt like dancing and I knew this was going to be a great trip.
When I walked out a very friendly guy with locs who had a sign with my name in his hand, was ready to drive me to the hotel. My French is absolutely lousy so I just didn't get his name but I understood that he was the designer behind MDA's brochures and posters while he was trying his best English and I my best "French."
My hotel was in one of the hippest parts of town central in the Marina bas du Fort area, at the top of a hill. An easy walk to cool restaurants, bars, and grocery facilities. I got a toothbrush and some snacks for the next day at the local supermarket then went for dinner. A trendy restaurant where there were some local dishes on the menu spoke to me the most. Since we were near the waters, I choose for a fish and it was deliciously grilled. Don't ask me the name. I know we have a lot of fish in Suriname but I don't think I've ever tasted one quite like this. It was almost like meat. Hmm, jummy! So far, very good!
On my way back I finally met Aline Tacite, owner of Salon Boucle's de Ebene in Paris, the person who made it all happen.
Aline and I met in 2005 at the World Natural hair Show in Atlanta. We clicked from the start and became friends immediately. She liked my book Going Natural, ordered a few copies and we stayed in touch ever since.
It was great seeing her after so many years, loced and all. When I met her she had a short natural, now she keeps her locs at shoulder length. The funny thing is that she is ready to take out her locs because she wants to play and feel her hair again and I am ready to loc. What a wonderful reunion this was.
The next day it was time for action. Like me Aline was also there to give workshops and to promote her business so we shared a booth together. Next to that she also translated while I was doing my presentation and teaching my workshop. With my "French" I literally couldn't have done it without her. So thanks to her both went very well.
What was most tremendous was meeting and talking to people at our booth. Whole families would walk by, ask questions, try and buy stuff. More than selling it was connecting with the people what made the experience so special. This, despite the language barrier. Almost without noticing the day went by and it was time for the Hair Show Pageant.
After a quick ride home to shower and change we were back at the venue. Not just to watch the pageant but Aline and I were also part of the team of four judges. More than a hair show, this was a pageant where the models were showing off creations of the most fabulous designers of the Caribbean. I was totally in awe, by the creations, the hairstyles, the models and their professionalism.
Runnerup, Kra KOUASSI (red 2nd from the left), Nadège CORNELY (queen with the crown), Valerie Samson on her right, 2nd runnerup.

As with every contest, there were a few outliers but I can't say it was easy. There was one remarkable moment I think everyone in the room will always remember. While answering the question "Why did you decide to participate", Valerie Samson got emotional while stating "because people tried to put me down and tell me that I am less than." I had enough of that and wanted to proof a point. I wanted to proof that I am as beautiful as any one and I that I matter. You could hear a pin drop while she was holding back her tears.
So after four rounds of outfits and questionnaireswhen it was time for the judges to deliberate, it shouldn't come as a surprise to you that Valerie was one of the Black beauties who was on all of our lists. The other two were Nadège CORNELY who was eventually crowned Queen Nefertiti and Kra KOUASSI, the first runner up. The evening was a great success and I felt blessed to have been a part of such a wonderful evening.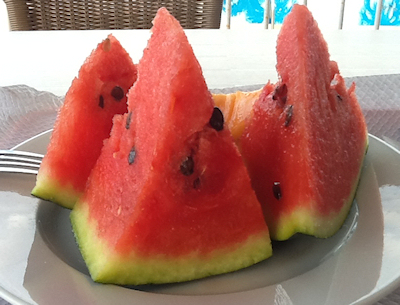 I must admit that I was a bit tired the next day when Aline and I had to be up early again to be at our booths. My breakfast however made everything all right. Yes, watermelon! I am not ashamed to say that I am a watermelon loving nappy head. It is one of the healthiest fruits on the planet and as someone who is wheat intolerant,
watermelon is a lifesaver. Especially in a former colony of France where croissants and baguettes are part of the culture.
The day at the booth turned out to be even more fun as people from the day before returned as promised to get their stuff. This was also a time for vendors to get stuff they wanted before the market was allover. So, I got this amazing pre-fabricated head wrap that makes anyone looks like a queen. Not only is it as easy as pie to wrap, it is also a one size fits all. Wanna know more? Click here.
And so ended my Going Natural Hair weekend in Guadeloupe. Aline invited me to stay two more days to enjoy Carnival and show me around the island and I happily accepted.
I want to give a big thanks to Aline and her family who let me stay at their lovely home and especially to her fabulous cousin who drove me to the airport so very early in the morning. It was a ride never to forget watching the sun rise while driving on the island nearing Pointe-à-Pitre.
As they say in French Merci Beaucoup to Mary-Jose who made it all happen. Without her there wouldn't even be a MDA. Last but not least I want to thank all the people who's name I couldn't remember and visited my booth. It's because of you that this was a trip I will always remember.
Take a look at this slide show for more of an impression.
And if you like to have an idea of what Carnival looked like, check this video out.