Update: We found the dress and you can order it at: https://whatnaturalslove.com/collections/moroccan-magic-dress-collection. Can you help us find this versatile floating dress? It was filmed at the International African Arts Festival in 2012. Do you know the vendor and can you send us her info?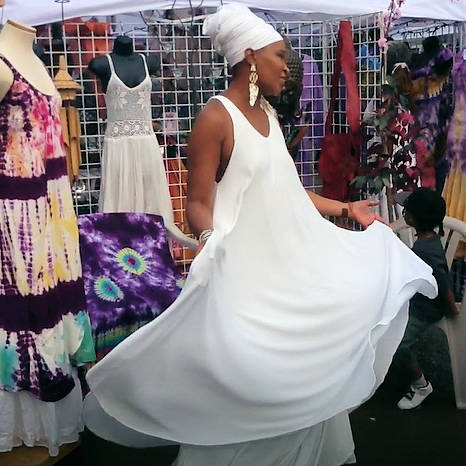 In 2012 when I just had my iPad, I carried it around everywhere and of course also to my all time favorite summer event, the International African Arts Festival. In its 46 years the IAAF has only grown more popular because of the exlusive African arts unavailable in regular stores, one can find there. From earrings to sculptures from everywhere from the Diaspora can be found during the forth of July weekend at Commedore Barry park.
It's an inspirational environment with beautiful people, incredible hairstyles, outstanding music, colorful and limitless creative art. Here is where I shot Lurie who's' all time favorite Afro photo sparked a heavvy "nappy hair" discussion that was the foundation for her now famous book: Afro State of Mind, Memories of a Nappy Headed Black Girl.
One of the things I filmed was this white versatile dress. To me it was just such an elegant dress that every woman should have. Curvy, slim, tall or short, it suits whoever is wearing it. More than that it's a dress that really adorns a body. Fascinated by the design, I had a chat with the vendor who unfortunately didn't have a website or facebook page. She did write her number on a piece of paper that I even had on my desk for months but as you can imagine eventually it got lost.
Still, playing with my new tool, I uploaded a few of my summer impressions on my youtube channel and what do you know, many more women were interested in that dress. Since I lost the vendor's number, I didn't respond until a few weeks ago when I got this email.
Hello Ms. Liong,
I writing to you to inquire about the YouTube video featuring the Chank's Moroccan Dress that one can wear many ways. It was suggested by you. I left a message in the comment section 4 years ago about purchasing the dress and never got a response. I just recently pulled that video up again.
I'm reaching out to you directly to see if you can point me in some direction as to how I can purchase that dress. I think that it is awesome and I would love to have that dress for an upcoming cruise that I am planning. If you would be so kind as to assist me in my search, I would be eternally grateful. I would appreciate an email response or a call. 
Thanking you in advance, Rose L S.
Since I do remember the paper with blue ink but not the phone number, I hope that one of you who has seen this dress can help miss Rose out. Please take a look at that dress and let us know. Thanks!
Update: We found the dress and you can order it at: https://whatnaturalslove.com/collections/moroccan-magic-dress-collection
Update: We found the dress and you can order it at: https://whatnaturalslove.com/collections/moroccan-magic-dress-collection