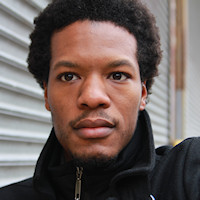 Name: Mark Ah
Occupation: Cinematographer/ Director/ Photographer/ Editor/ EFX
Why did you start vlogging and what is your goal ?
I began vlogging because of the natural hair community on youtube & because of my Queen Kasheera Latash, who encouraged me to share my story if I felt it was worth telling. My goal is for people to come to my channel and feel at home, get educated, share ideas and opinions and began to accept who we truly are if they have not already…
How important is your hair?
My hair is important to me because it reminds me of who I am; where I came from and where I am headed. Right now I am wearing a kinky coily crown. And as a Natural King I believe it is the utmost importance to protect your crown chakra and treat it with care and show it love…
Why do you choose to wear your hair the way you do?
Currently I choose to wear my hair in an afro style because its the easiest…lol But I started out with this look a few years ago and stuck with it because I wanted to make sure what ever looks I received while growing my hair out people would either change and begin to feel more comfortable seeing my thick natural hair or they would feel compelled to tell me to cut it off and I would simply reply, "Why, its my hair, I can grow it how ever I like; I love it!" And let them know that this is my natural way my hair looks.
What does your hair mean to you?
Is it just an accessory that compliments your personality and style or is it deeper than that? My hair to me is not an accessory yet…hahhahahha..lol
I am leaning towards getting twists soon. But, definitely on a deeper level my tight coils represent the spirals of life, DNA, the universe and so on! My natural hair grows out towards the sun reaching for our source creator, GOD, to come down into my body and help me to personally grow and help others!
How important is a woman's hair to you?
Does a weave, relaxed hair or a natural head bother you or do you have a preference for either of these styles? A woman's hair isn't necessarily a priority on my list of things of importance, but grooming and education is. If a woman hates her natural hair and doesn't know what to do with it, I believe she should take her own journey to explore the millions of possibilities she can try for natural hair! I now prefer natural hair!!! It took awhile for me to get here, but I reconditioned my mind to see natural hair as a thing of beauty along with darker skinned women. The media in America has a good way of selling sex to men and showing what they think is beautiful every second of the day, and as a man one has to become conscious of this and take back his own thoughts on true beauty… As for relaxers and weave they don't bother me unless its in my face and ready to jump out at me. (kidding) But, I do see relaxers as a dangerous cosmetics trend that needs to be abolished today and as for weaves I feel it is ok in moderation… But when you have a business that capitalizes off of fake hair not only does an entire race become exploited, but the process of keeping up with demands and creating news ones drives a whole industry to unmoral measures. ie…woman having to hide so they wont get their hair cut off to be sold else where; animals too. I say leave them all alone and create a synthetic manmade organic weave, thats eco-friendly. (I'm copyrighting that…lol)
One of the questions that was send in by our members is: Do you prefer a certain texture?
I prefer 4a and smaller… 😉 But I love all Natural Queens! 😉
Do you think black hair is an issue? Why or why not?
I think black hair is not the issue, but the miseducation and self hate people still have in 2012!!!!!! Lets wake up as a whole and begin to love one another.
Last word? All I want to say is, if you natural and thats how you want to be than so be it! Don't let anyone or anything tell you other wise! If anyone says anything to you, step to them and see how they really feel and why, if you are ready to… -PEACE & LOVE TO ALL!!!
Homepage/blog/vlog: www.528spokentruth.com