I went natural shortly after I graduated high school in 2002. I had always wanted to go natural but I wasn't confident enough during my high school years. After severely damaging my hair from perming and dying I decided that I wanted to stop perming but wasn't sure about the alternatives or how to go natural. Once I went away to college I finally made the decision because I was living in Ann Arbor, Michigan and there wasn't a black hair salon where I could get a relaxer. The closest black salon was in Detroit and didn't have a car and also couldn't afford to travel there and get my hair done. So I started transitioning my perm with two strand twists, cornrows and extensions until I got to a point where my natural hair was long enough to rock a twa. I cut all my hair off the summer after my freshman year of college and never looked back!
Name: Franchesca Leigh Ramsey

Profession: Blogger/Vlogger

Location: Queens, New York
When, why how did you start locing?
I started in February 2004. I had always admired Lauren Hill's hair but I really didn't know anything about locs or going natural. My mother had a co-worker with really beautiful locs so I asked her about her hair and how she started them. She offered to come over one afternoon and talk to me about locing my hair and I ended up asking her to start them for me. She started my hair with comb coils and gave me some basic advice about caring for my starter locs and sent me on my way.
What was the hardest part of your journey?
The first year was definitely the most difficult. My hair was at an awkward length so I wasn't sure how to style it and my baby locs were really thin and rather unkempt looking. My mother and family members were constantly asking me when I was going to "get my hair together" and I was pretty embarrassed with how it looked. I started wearing a lot of hats, scarves and other hair accessories to get through the awkward phase and before I knew it my hair had started to loc and grow and I began to really like how it looked.
| | |
| --- | --- |
| | |

What did your journey teach you?
I think the most valuable part of my hair journey has been learning to embrace my most natural self and also have confidence in my looks. That first year was really hard for me. Especially when members of my family were teasing me and giving me a hard time about my hair. I had to just be confident in myself and know that the stage wouldn't last forever. Looking back, I had almost a butterfly like metamorphosis. I started out as this awkward girl with damaged and permed hair, transitioned to natural hair, went through the baby locs stage and eventually emerged with really beautiful long locs.
Please share a funny hair anecdote that you will always remember.
I was giving a really important presentation at work and I was a little nervous. I was one of the youngest people on staff at my job and it was very intimidating to be doing a presentation for a large group of older professionals, half of which were company board members. I was about half way through my presentation and things were going really well when I got a question from one of our board members. He came up to the podium, reached out as if he was going to point at something on the white board but instead grabbed my hair and asked, "I just have to know, is this real? and how do you get it like that?" At the time I was completely mortified, but looking back it was pretty funny.
Were your locs all grown then and what did you say? Can you describe why you were embarrassed?
This happened about 2 years ago, so my locs were about 4 years old and shoulder length. When it happened I just laughed and told him that we could talk about my hair after the presentation. Then I said something like, "Does anyone else have a question that's not related to my hair?" It was one of those situations where it was more of a second hand embarrassment. I couldn't believe that I had just spent all this time giving stressing out about my presentation and this guy had the nerve to ask me about my hair instead of about the presentation. I felt like he was just making himself look bad because it was obvious that he wasn't paying attention to the presentation and instead and spent the whole hour wondering about my hair. It was just bizarre.
Looking back, has your perception of your hair or black hair in general changed? Please elaborate.
No, I don't think so. If anything I have a better appreciation the fact that everyone's hair and their hair journey is different and unique. Looking back, I wish I hadn't spent so much money, time and energy trying to chemically alter my hair and stressing about it's appearance. But I think I had to go through that to get where I am today and really appreciate the beauty of my natural hair.
Why did you start locing and why did you choose the method that you choose?
The main reason I loc'd my hair was because I liked the appearance and wanted to have natural non-chemically altered hair. When I started I wasn't aware of the other methods available, so I just went with the comb coils that my mom's friend did for me. I didn't know any other way.
Does your family like or your hair now?
My mom loves my hair now! She thinks it's really pretty and I think she's actually jealous of the length. My mother has always had long hair but as she's gotten older she's had to cut it due to chemical damage. Now my hair is down to the middle of my back and hers is right below her ear which is a huge change for her. And for me, this is the longest my hair as ever been and I love it. My other family members haven't said anything about my hair but I think they're ok with it. If anything I think they're surprised at how different my hair is now that it's matured and how versatile it is. I'm always styling it and doing different things with my hair and I don't think they expected that. One of my aunts actually started locs a few years ago so she's always asking me about my hair and every time I see her we compare our length. It's really cute.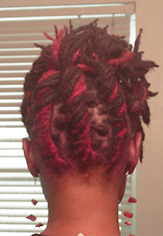 Describe your worse hairdo/ your best hairdo and please, PLEASE, include a picture of your worst one.
Attached is a copy of my worst hairdo and best. The worst is from around my sophmore year of high school. So I was about 16. Please forgive the crappy photo quality along with the crappy hair cut and weird face I'm making. But at the time I thought I was just soooo cute. Sadly, You can't see the full extent of this awful haircut, but not only was it too short to put into a ponytail, but it was angled AND I had bangs. I think I just had too many trends going on at once. My best photo is one of the only times I've ever had my locs styled by someone other than myself. For my 22nd birthday I had one of my classmates do my hair for me and she came up with this really funky updo. She had never styled locs before so she only charged me $15 and it took her about an hour to figure out what to do with my hair. Despite it being incredibly tight, it came out really cute.
Your life/hair motto.
My life motto is, "do what you love and love what you do" so I guess that kind of applies to my hair as well. I try my best to just take care of my hair and wear it in a way that makes me look and feel good.
Blog:
http://blog.franchesca.net/
You Tube:
http://www.youtube.com/user/chescaleigh