Most weaves are performed by a friend or family member who knows how to do hair. A talented person who somehow taught herself how to braid hair at a very young age. Although this is commendable and such a person can be as good as any other stylist you would have to pay for, there usually is a striking difference between a weave done at home and one done by a skilled professional. The difference lies in the little details that we overlook but are a second nature to the ones who master their craft. Since not everyone has the opportunity to visit a top notch salon here are some tips by Jamilah Collier from Khamit Kinks, a salon that is on top of their game in the world of natural hair.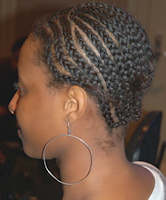 Texture Find a texture that is as close to your natural hair as possible. To achieve the most natural look your hairline has to blend in invisibly with the weave.
Cornrow base
Think about the style you want to achieve before cornrowing the hair. Since the cornrows will be the base of the weave the pattern of the cornrows should be in line with the style you're looking for.  
Weaving
Instead of sewing on the hair in the cornrow tie the hair around it. This adds less pressure and since textured hair is voluminous no one will see notice.
 Volume
Do not add as much hair as possible but consider your natural density. Of course you want to fill in where the hair is thinner, just don't go over board. Textured hair is naturally voluminous so a full head is easy to achieve. Adding too much hair will result in an unnatural look. 
Styling

With the right quality of hair you can twist the hair like it's your own and you can even wear a twistout. It's as versatile as natural nappy hair and you can achieve as many styles. Feel free to experiment and report back.
Maintenance
To prevent the hair from matting and tangling it's best to wash hair while it's twisted. Make sure you massage the scalp with your fingertips to loosen up and remove buildup and dirt and rinse thoroughly. 
The hair used is called Nappy Snappy and it's available on at Khamit Kink Natural Hair Salon . 
For more salons check out our List of Natural Hair Salons.