Tired of your boring, old wash and go? Summer can be one of the toughest months in the natural hair journey. Issues like lack of moisture, color fading, and never ending frizz can easily leave you discouraged. When the journey gets tough, a little inspiration can help you can defy the odds and maintain the perfect style. If you are stuck in creative quicksand, here are a few of the hottest natural styles for summer 2014.
The Afro
This classic style will always be desired. Some say, "The bigger the hair, the higher to God" and the afro definitely displays your inner Goddess!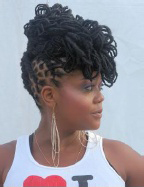 The Dread Hawk
Dreads have always been a style only daring people try. Some say the idea of wearing the same style everyday steers them away. With a little creativity, dreadlock are very versatile. The Dread Hawk can be elegant or casual displaying the meaning of lovely locs.

The Head wrap
Head wraps date back to historic times. Today both women and men rock head wraps tied in intricate ways. Head wraps are also a savior for a bad hair day!
Super Short
Anyone who is bold enough to rock a super short cut deserves to be recognized. Short cuts bring out features that were otherwise hidden and exponentially build confidence!
Air Dreads
This unique trend is very common among men in the south. It is hard to ignore the statement made by such a daring style. Ledgends like Coolio and Basquiat sported Air Dreads.
The Mohawk
A cute style that keesp hair out of your face. It is also an alternative for those making a big chop but don't want to go super short!
Sister Locks
A type of dread lock. Small and intricatley created, this style is highly requested. Sister locks are easily managable and simple to style.
The TWA
Most naturalista's with the TWA and new to the natural community. A TWA is a conversation starter since people are curious about your recent decision.
Kinky Updos
Thick hair isn't always fun, especially when it is hot. An up do is a style that can keep you cool on a hot summer's day but stay true to your funky personality. Kinky up do's are also great for special occasions!
Twists
This protective style is great for transitioning. It also defines curls and stretches length, and provides a base for the perfect twist out. Twists can be worn for weeks at a time and can make hair styling a breeze.
Go ahead! Get inspired! These styles will help boost confidence and produce compliments!