I choose to have my hair braided with extensions because my hair is naturally frizzy and I wanted my cornrows to last. That was the first and last time because these extensions were way too tight. It was so bad that I couldn't sleep at night. The only reason I didn't take the braids out is that I didn't want to be up until 4 to take them out.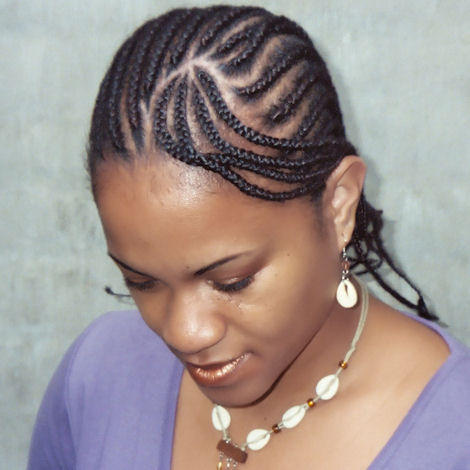 Please don't let this happen to you. Tell the braider immediately that the braids are too tight. We may think that we are adept at practicing proper hair care but the truth of the matter is, however, that most of us make some big mistakes in our hair care regimens. Particularly when it comes to braids and extensions. Here we will discuss the top 9 mistakes made with braids and extensions, including some that will surprise you, and how to remedy them.
8. The first and most common mistake made when we choose extensions is simple neglect. When your hair is in braids it doesn't mean that you don't need to care for your napps. You do. Wash your hair regularly with a pH balanced natural shampoo like the Going Natural Herbal Shampoo that will also refresh your scalp.
7. Blow-dried hair may be easier to work with for a braider but that doesn't mean it's good for your tresses. Especially if you are natural. Blow drying can cause serious damage and adding extensions to damage hair won't improve the health of your strands at all. So, skip blow drying to avoid damage. If you absolutely must blow dry, do so on the lowest possible setting and use a conditioning aid to protect your strands like the Silky Shea Hair Butter.
6. Another big mistake made by many is leaving extensions in for too long. Allowing extensions to stay in too long makes them difficult to take out, which can cause your carefully grown tresses to break or be severely damaged. To avoid this, never leave your extension in longer than three months. Also consult with your braider if redoing the edges every two to three weeks is necessary.
5. A surprising mistake we commonly make when we wear extensions is deep conditioning. While a deep conditioning treatment is great and even healthy when you do it to your own hair, doing it with added hair causes the build up of product to reside on the hair and piling up between your strands and the extension. So never use a conditioning shampoo while wearing extensions. The residue causes extra buildup which will harden your hair and eventually may lead to damage.
4. Cleaning the braid is another big no-no. Many braiders cut stray hairs by shearing along the braids with scissors for a smoother look. While this might make the hair look better temporarily, it is highly damaging. When taken out of braids, the hair will be damaged and uneven. Practicing proper hair care is enough to keep the braids looking their best without cutting or shearing.
3. While many people love the look of micro braids, this style needs to be avoided whenever possible. Small braids can cause the hair to break and often make it difficult or even impossible to remove extensions without damaging your own hair. You can ask your stylist for smaller braids, but avoid going too tiny. Pencil size should be just about right.
2. Braiding hair right after a perm is literally one of the worst ideas and a serious mistake that too many women allow because they think it creates a smoother look. Since the hair strands are already weakened from the relaxing process, braiding too soon almost always causes breakage. The damage can be worse if the scalp was sensitive or reacted badly to the perm. It's best to have at least two inches of hair growth before braiding with extensions. During this time, it's a good idea to get the hair in the most healthy shape.
1. Finally, the number one mistake people make that seriously damages hair and scalpis braiding too tightly. While this might look cool and smooth, braiding too tight can actually caus severe follicle damage and ruin the hair. It is also very uncomfortable. So, if your braids are so tight that you can't smile without feeling your face, take them out. Better yet, say something while the stylist is working on your hair to prevent this aweful situation that can almost certainly lead to hair damage.