My experience.
~~~~~~~~~
The Going Natural Hair Show
~~~~~~~~~
Ever since I saw a natural hair show for the first time, I was impressed. It was at a World Natural hair Show in Atlanta. I had seen fashion shows before but never a hair show. Let alone a hair show that featured Natural African coils. The styles were so beautiful that I went to see many more after that experience and the hairdos never ceased to amaze me.
So of course, I had to include a hair show in the programming when I decided on doing the exhibit "The Pursuit of Nappiness." What better environment to flaunt beautiful coiffed heads than a chic high sealing gallery with walls graced by colorful blown up photos of natural hairstyles. Just imagining it got me exited.
Now as you probably also know, having an idea and realizing your idea are two very different things. There is a reason why we have more ideas than we can realize.
Simply because ideas are easier to dream about. So yes, I had to put in some effort to get the hair show going but the whole experience was more than worth it. My first hair show turned out even better than I had imagined.
You'll probably think that I am exaggerating when I say this but I kid you not: the hair salons were even nicer in person, the models were more beautiful in real life and the styles were just gorgeous! Please take a look and click on this link here and see for yourself if you don't believe me. Please feel free to report back if you don't agree.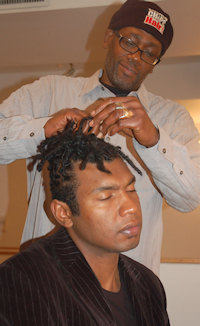 What made this hair show even more outstanding is the fact that the salons accomplished the goal without needing to attach a single hair extension or weave to any of their models' heads. By doing so the stylists not only honored the uniqueness of the many African textured coils, they also proofed that their ingenuity allows them to respect and perfect an individual's natural beauty. This is especially refreshing in a time when extensions and weaves have become the common solution to the hair issues that trouble the African American community.

My heartfelt thanks goes out to the salons Khamit Kinks, Locks n Chops, Twist and Curves.com and Riqui Lox, the beautiful models, Casa Frela Gallery and of course the great audience. I look forward to see you all next year.