Khepera Adornments, LLC. serves to provide an array of hand-crafted adornments and alluring accessories that inspire you to re-invent yourself and "to become" (kheperer). The Khepera is symbolic to the scarab beetle said to hold the attributes of self-generation and self-renewal. An interview with the owner of this Black Business Abeni Bamidele who has been designing jewelry and accessories for 20 years.
Can you please introduce yourself; name, where you from and what is the name of your business?
My name is Abeni Bamidele.
Abeni (Nigerian, Yoruba name meaning "we asked for her and behold, we got her") Bamidele (meaning "follow me home"). I was given my name through West African traditional ceremony while in the West African region of the continent. I am affectionately called Abeni by friends and business associates through my art form of jewelry and accessory design. Within my additional works as a behavioral health care administrator, I am addressed by name given within the U.S., as I was born in the East Coast in the state of Pennsylvania.
The name of my business is Khepera Adornments, LLC. which serves to provide and array of hand-crafted adornments and alluring accessories that inspire you to re-invent yourself and "to become" (kheperer). The Khepera is symbolic to the scarab beetle said to hold the attributes of self-generation and self-renewal. I have been designing jewelry and accessories for 20 years and actively selling my designs since 2005. Jewelry is such a intriguing art form to me, since the days of my childhood as I would drape myself with my mother's jewels. While growing up, my father was a history teacher who was first to introduce me to the rich culture of Africa, which lead my further interest in the variety of intricate designs of jewelry of the African people, which represented and symbolized so much meaning such as culture, status and even protection. This is what ultimately inspired my interest in designing jewelry.
What inspired you to start your business, when and what is your goal?
My goal is to contribute to the world from my perspective and life's journey by designing varied pieces that make men, women and children feel empowered, beautiful and graciously adorned. Most of the jewelry I design makes a powerful statement. When customers wear my designs, they come back and tell me how regal they felt when wearing them, or how they received so many compliments. Some customers have even said that their adornments have even become conversational pieces. I am humbled by these responses as they make me smile and indicate to me that I am on the right track in satisfying they need to be recognized for the beautiful humans that we all are.
What do you find most challenging about running a business?
The most challenging parts of operating my business is remaining astute to the ever changing needs of the customers as it relates to style. There are so many influences in this world which change the dynamics of style and taste. An additional challenge is making my brand known through social media, advertising and even word-of-mouth. That in itself is a full-time job.
What makes your business and your products special?
I would say that what makes my business and products special is that the heart and soul of the products come from my own unique experiences in the world, expressed through my art form. As a behavior health care professional and someone who has avidly traveled from African countries to Europe, I've seen a lot of things, met many types of people and have come to understand the many facets of need. I am passionate about the works that I do. It is this type of passion that drives me to do the best I can in satisfying my customers as I relate to so many. I try to tap into the needs of customers to want to be bold and unique. My mantra is to "Be the opposite of common.."
What is the most important lesson you have learned from doing business?
The most important lesson I have learned is how beneficial it is to interact The most important lesson that I have learned from doing business is that customer service, kindness, respect, consistency and trust is the key to making customers happy and returning back to make on-going purchases.
Have you ever been to a hair or trade show? If so where and how was the experience?
I have attended a variety of trade shows in my time in several states (Tennessee, Pennsylvania, Georgia) to name a few. My most compelling experience, however was when I first attended The International Locks Conference, a natural hair, wholistic health and beauty expo in Philadelphia fifteen years ago which would mark the beginning of my own natural hair journey when I began to lock my hair. Until present day, I still attend this most empowering conference.
Do you think it's important to have a website as a business or is it more important to have social media like facebook?
I think it is equally important to have a website as a business as it is to have social media pages, utilizing them as platforms particularly for cyber-driven online business. In my estimation, they are the best formats to build relationships and a tribe of people who trust and endorse the products sold.
Where do you want to be in five years?
I speak into existence that within five years Khepera Adornments, LLC will be a household name to many within the U.S. and internationally. While I presently sell internationally, I wish to continue to build the brand with opportunity to grow and continue to design fine products and offer to a variety of boutiques and stores who can appreciate bold statements.
Also see InSewFar: Liberian-inspired Black Business
ABOUT BLACK NATURAL HAIR
———————————-
Did you ever believe you had "bad" hair? If yes, how do you think you got that idea, when did it change and how did you change it?
I was fortunate to never believe that I had "bad hair" as I grew up in an environment where my mother refused to to straighten my hair much less place any chemicals in my hair. This allowed me to embrace my natural self and beauty.
Did you ever feel ashamed of your hair? If yes, can you please share one or more moments?
I would say that a time that I felt ashamed of my hair was when I "got caught" in the rain en route to a college party. When I arrived, my hair was one big massive disorderly puff with no formation at all. I can laugh today, as when I look back, I remember that I struggled with what I saw as a lack of "management" of my hair. It seemed to have it's own mind and agenda, regardless of how I wanted it styled! The shame entered as most of my peers had relaxers and perms in their hair, so while I was sporting the cotton-ball look…their hair was silky-straight, and in my estimation looking better than mine at the time. Consequently, one of my girlfriends offered to put a relaxer in my hair, so the journey began with my hair, which would blow in the wind, then snap back to style again…
What styles have you tried in the past (relaxers, Jherri curls, locs, afro etc). Which one was your favorite and why do you choose to wear this style now?
In devastation, I would watch my hair get more and more thin, and at the time, I was going to a hair care specialist that recommended that I go natural for a while. I never looked back. I returned back to natural by chopping that dead hair off and wearing locs until today for 15 yrs. I would not have it any other way as I have proudly embraced my natural self for many years.

ABOUT BLACKFOLLICLES.COM
———————————-
I had opportunity to peruse the website and I think it is a brilliant and empowering venue/website to not only introduce natural hair care products internationally, but provide an all encompassing portal to products that people may have not normally had access to.
What perk/gift would you choose and why?
Perks for vendors: All are enticing, yet the one particular which stands out to me is the "sponsor for a lifetime banner". It is affordable to young start-up businesses who not only wish to get their brand recognized, but show a lifetime of support to the mission of BlackFollicles.com.
Perks for shoppers: I have reviewed all offers and I honestly think that all are magnificent and thoughtful offers. You provide an offer to people in every financial realm, which shows true sincerity when giving back to a community of people whom you do business with. Excellent!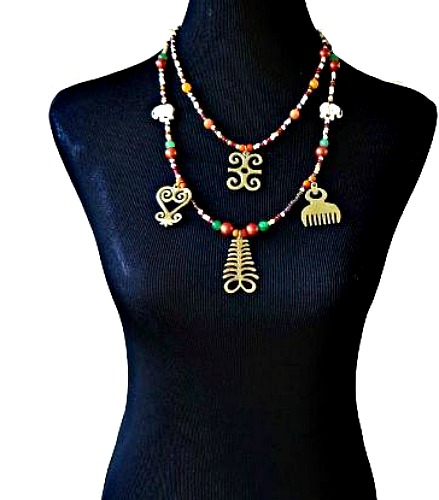 Do you support the idea of BlackFollicles.com? If so why if no why not?
I totally support the idea of BlackFollicles.com and would certainly utilize the services, as a business owner who just so happens to fully appreciate natural hair and products which keep our mane healthy.
About Your Store
Where can people find you and your products?
The are many places Khepera Adornments, LLC and myself can be found. They are as follows:
Website: Khepera Adornments, LLC www.KhepperaAdornments.com
Blog: Uniquely & Brilliantly Adorned Uniquely & Brilliantly Adorned
Etsy: At Khepera Adornments, LLC www.etsy.com/shop/KheperaAdornments
Handmade At Amazon: Khepera Adornments, LLC Amazon.com: Khepera Adornments, LLC: Handmade
Facebook: www.facebook.com/KheperaAdornments
Twitter: Khepera Adornments (@KheperaAdornmnt) | Twitter
Pinterest: https://www.pinterest.com/KheperaJewels/
Instagram: Khepera Adornments Khepera Adornments, LLC (@kheperaadornments) • Instagram photos and videos
LinkedIn: Abeni Bamidele Abeni Bamidele
Also on Youtube!
Last word?
"I wish inspire others to become well informed, selectively enculturated and confident within their own talents and abilities."
Thank you so much again for your consideration.
Going Natural went on a search to feature the entrepreneurial women who are the driving force behind the growing natural hair care business. Our goal is to make it easier for our members to shop consciously and support our community. So if you want to be featured or you want to recommend a business to be featured, please contact us.