Locs styled by Quincy
While thinking for weeks about a low maintenance style for this summer, I saw this woman with a gorgeous loced style. At a closer look, I could see that they were extensions. Now I was even more interested.
I have had many hairstyles but never fake locs. First, I thought it would take too much time to get loc extensions. At least six hours estimated some salons because each loc has to be handmade before attaching it to your hair. That is a lot of work and naturally those hours come with an according price which is more than reasonable if you are contemplating locs but maybe not if you just want to do it to write about the experience.
I decided to ask for the stylist's info anyway and I am so glad I did. I couldn't believe what I heard. I could get my locs done in two hours for $180.
Quincy is one of the most patience and friendly stylists I have ever met. All the questions I bombarded her with, she patiently answered so I decided to give it a try.
This beautiful lady from St. Lucia works from a salon on Ave D in Brooklyn. By the time I arrived she was working on a client, one of her other clients was under the hood and a few others were waiting. Clearly she had the most customers. Without an assistant I watched her styling each client one by one very efficiently. All styles were unique and eye catching at the same time.
When it was my turn, I could choose color and length. I choose the color 1b but didn't think I needed that much length. Quincy then asked if I wanted it styled in one of her updos. Of course I did. I never thought I could rock one of those intriguing loced styles. These styles do need length though and that was ok for me. Enough length for an updo.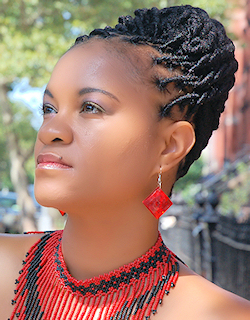 Extensions are always a bit tight and I always have to get used to that but I was really incredibly happy with this style. It's a completely different look, yet quite natural. These are the most natural extensions I have ever had. Ok, the hair is a bit long, definitely not my length but they look so real, it's unbelievable.
When I met an old friend who has beautiful locs for seven years, he looked at my hair and said "Huh, Since when?" I took my hair down and said, this is how long we haven't seen each other! The expression on his face was priceless. He just couldn't believe his eyes that I had locs this long. After a good laugh, I told him that they weren't real. We compared our locs and although you could feel the difference, you could hardly see the difference.
Now let me tell you. I am enjoying my fake locs more than any other hairstyle ever. Why? Because the style looks so very natural, these are the lightest extensions I've ever had and best of all it's a get up and go hairstyle! That is priceless.
If you want to get loc extensions or get your real locs styles you may want to check Quincy out.
Stylist Quincy: 718 216 5605