12 years of experience in designing websites, blogs and managing CMS. We look forward designing your new site!
Going-Natural.com has the right expertise to host and design your website. Whether you need a Social Network, a Web Shop, a business website or just a personal blog, we can help you meet your needs. See for your self and don't hesitate to contact us if you like what you see.
Copy and paste any of the following options in your email to us to request a quote.
Examples of sites that we built:
kroeshaar.com | americasnextnaturalmodel.com | www.iaafestival.org
Let us design and host your website
Design:
New: we design a new, fresh, original design, especially for you

Standard: choose from a basic standard design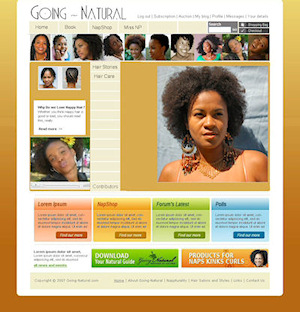 Content Management:
Business Website:
Reviews

Customer profiles

Newsletter

Guestbook

Polls

Surveys

Subscriptions
Advertising options:
Market Place

Business Index

Classified ads