Roshawn a.k.a Shawn organizer of the first Texas..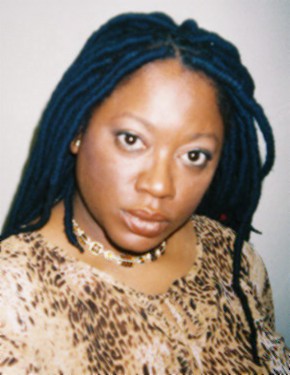 Roshawn a.k.a Shawn organizer of the first Texas Natural Hair show. By MIreille Liong
Hello Roshawn. Thank you for taking the time to answer my questions. I am very curios about the first Natural Hair Show in Austin, Dallas. How was it?
The first Annual Texas Natural Hair & Fashion Show was a success. Sidebar: we will change the change the name beginning in 2006. It will suit us better to call this event The Texas Natural Hair & Beauty Expo. I was very pleased with the educational speakers, entertainment performances, exhibitors, and the model's presentation at the hair & fashion show.
Was it a long time idea of yours to organize a natural hair show and was it easier or more difficult to realize?
Well, I had wanted to attend a hair show that focused on natural hairstyling and beauty ever since I went natural in 2002. The idea to present a show here in Austin, Texas was conceived after i attended the 10th Annual World Natural Hair Health & Beauty Show in Atlanta, GA in June, 2005. I was truly inspired by all the natural beauty and business networking. This is how I became dedicated to starting an annual show in Texas. The planning for the show was challenging but definitely an overall rewarding experience.
I heard that visitors where very enthusiastic. How many people visited, how many vendors participated?
The first show brought visitors, exhibitors, and participants from Houston, Dallas, San Antonio, Austin, and surrounding cities. About 200-250 people attended the first show, and we had 20 vendors offering a variety of goods ranging from hair care products and scented oils to apparel and gift baskets. Yes, I got a lot of positive feedback from the guestsabout the first show.
Why was the turn out a little disappointing and what do you think can be done to create a better turn out?
The turnout could have definitely been better, but this was the first year and it was introduced locally for the first time. I am confident that we will grow each year. We are working on adding new activities such as workshops and a hair show competition, as well as increasing our marketing efforts exponentially. I am feeling very good about the direction and attendance at next year's expo.
What do you think went very well and where do you think there is room for improvement?
The children's and adult hair show was very successful. The entertainment, speakers, and vendors were all of high quality. I would like to see improvement in the educational component of the expo, as well as create even more business opportunities for local and out-of-state exhibitors.
ANOTHER MESSAGE.

You are a long time licensed stylist. I assume you worked with relaxers, press and curl and such. What made you switch to natural hair care or do you do both?
Well actually I have only been licensed since January 2005. I guess you could say I didn't waste any time getting busy after getting through school. I had to do relaxers in cosmetology school as part of my training for state board licensing requirements, but I decided when I went natural back in 2002 that I would not perform chemical services on family or friends as a matter of principal. I did not feel comfortable enslaving their kinks when I'd liberated mine. So when I became licensed I never had to consider whether I'd be using relaxers.
When I went natural, it was a very deep experience for me and after relaxing my own hair for over 15 years, I saw a need for more education on caring for natural hair and finding natural hairstylists here in Austin. I decided that I would return to school to become licensed. In addition to natural hair styling of locks, braids, twists, afros, etc., I also offer hair extensions, hair coloring, and temporary straightening (the press or flat-iron, no chemicals). I must add that I try to discourage the use of hot tools, aka pressing because over time it can be just as damaging on the hair shaft as chemicals could.
When did you go natural and what was the reason or what were the reasons?
I went natural in January 2002. On a whim, I just went into the bathroom one night and cut my 8″ relaxed hair all over. Then I took the clippers and buzzed it! I still laugh whenever I think of that bold move. I went from feeling liberated to extremely scared about what I'd done to my hair in a matter of seconds. But I didn't feel transitioning was for me since I had tried it twice before and kept going back to texturizers and relaxers. I wanted to just start all over completely and in an instant.
I went natural mainly because I was tired of the 4-week retouch grind and all the maintenance that came with having a relaxer. I was also tired of being limited because of my perm (for example, getting caught in the rain or going swimming meant the end of the world as far as my style went). In short, I felt the need to be free. It was only several months into being natural that I began to think of it as a personal and spiritual thing, but at first it was for convenience and the ability to spend more time and money on other things besides my relaxers and maintenance. I was also drawn to the fact that being natural offered me the ability to be different and unique. I've always loved being a trend-setter so when I started sporting my twa and big afro and other natural styles, I loved the reaction and stares I got from family and friends.
Was it difficult for you to go natural?
The hardest thing was not knowing what to do when I went natural (I wish I had your book back then!). I had made up my mind but I did not know expressly what I was going to do in terms of routines and styling for my new hair. As an aside, I find it disturbing that so many men and women are clueless about our own hair texture. After I joined an online hair forum for support and bought books and videos to find out what to do, I was on a roll.
But for me, it wasn't really hard going natural because I had already had two failed attempts so I knew I was not going to relax ever again. Taming my kinks was out of the equation so I really had to experiment and learn to love and care for my hair. It's really a mental thing, because you can think up plenty of reasons to keep your hair enslaved to chemicals if you really wanted to. But going natural is only as hard as you allow it to be. "Free your MIND, & your hair will follow!"
How do you care for your hair now?
Currently I alternate between wearing an afro, puffs, ponytails, cornrows, nappy weaves…all with some sort of hair accessory to match my clothing, and my staple style is the easy-going shake-n-go style. I wear my hair like this when I need a break from styling. I can change my hairstyle and look 2-5 times a week depending on my mood. I simply do a conditioning wash in the shower, rinse, apply more conditioner and shake it well. I may add styling product like a gel or mousse to hold the curl definition. Sometimes I don't add anything, I just let the conditioner stay in all day and go. I only shampoo once or twice a month or as needed and add oil and moisturizing products whenever needed.
What are your favorite products?
My product favs are varied. This is the limited list of products that seem to work well with my hair type/texture:
Paul Mitchell's "The Conditioner"
Aveda's "Be Curly" "Universal Styling Cream" "Rice Bran Oil" & "Styling Gel"
Pantene's "Hydrating Curls" Conditioner
Organic Root Stimulator's "Twist & Lock Gel"
"Redken's "Fresh Curls" Conditioner
Bronner Bros' "Hot Six Oil"
Loc-a-Fella's Lock Gel
Jamaican Mango & Lime's entire product line
Wondergro's pomades
Carol's Daughter "Koret Amen" Hair oil
I'll stop here because we're limited on space and I'm a product junkie.
Have you ever been to other Natural Hair Shows and can you give us your opinion about them?
I went to the 10th Annual World Natural Hair Health & Beauty Show in Atlanta, GA this year (June 2005). It was so inspiring to take in all the naps! They really do it up on the east coast. Then i was swooning over all the products that were available from the exhibitors. You definitely want to bring money to shop. I didn't get a chance to partake in the workshops but I plan to in the future. I really enjoyed the lock-styling competition.
Will you do this next year again?
I will definitely give this event a chance to grow to its maximum potential.
Have you had time to look into it and what do you think of the book Going-Natural?
I read the book, "Going-Natural" and personally recommend this book for both newbies and oldheads of nappturality. The book is clear and well-organized. I believe it will be a very helpful tool for nappyheads and is a must-have in your hair book collection. Kudos to Mireille for creating this site and this book! I even learned a few new things myself!
Final word?
Thank you for the opportunity to share more about myself and the Texas Natural Hair & Beauty Expo. I'm looking forward to next year's event. Visit texasnaturalhair.com and subscribe to receive updates and news regarding upcoming natural hair events in Texas as well as the 2005 Natural Hair Expo. Peace and nappiness, Shawn.