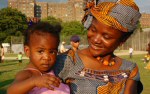 A most talented loctician who has his roots in Trinidad developed his own distinguish style with a inimitable who has a head full of beautiful healthy locs himself
Going Natural visited the International African Arts Festival by Mireille Liong
A most talented loctician who has his roots in Trinidad developed his own distinguish style with a inimitable who has a head full of beautiful healthy locs himself
~~~~~~~~~
International African Arts Festival
~~~~~~~~~
Of all the festivals the International African Arts Festival that takes place every year in Brooklyn is the most fascinating one. With a market place that offers an inconceivable variety of exotic goods, this event invites the world to celebrate a colorful collaboration of diverse African cultures.
For this special celebration the fields of the Commodore Park are transformed into a vibrant exhibit where one can enjoy almost everything African; from arts and food to games and lectures. Visitors, parents and children from all over the world come to spend quality time by enjoying all kinds of performances and free activities.
The belly dancers never fail to entertain their audience when they share the history of this art form, demonstrating it and inviting people to take part in a free lesson. Jembe drumming and Sabar dancing also inspire an audience to learn, live and participate. One can hardly get bored with the wide range of performances the festival offers; from poetry slams to puppet shows and from clowns to fashion shows.
The booths that form the face of this festival are overwhelming. Vendors display their paintings, books, crafts, accessories, clothing, hair, health and body products and more, as to allure the most hesitant customer. The dynamic rhythms that vary from Jazz to Caribbean are like a hearth beat that keeps life flowing in every little corner of the park. Not even a midweek forth of July holiday followed by rainy day and an extreme hot summer weekend could stop the festivities this year.

Even if one is not interested in buying something or a free class of some sort, the African festival is still worth visiting. The lively fields where vendors and visitors interact around performances are not just a spectacular view. The festival as a whole is a amazing experience that brings home the wonders of the continent of Africa. So if you didn't make it this year make sure to preserve that forth of July weekend for the International African Arts Festival next year.