While many across the country were knee-deep in mashed potatoes and cranberry sauce, Avenue Music Group (AMG) was giving back to their community and Going-Natural had the pleasure to support the venue.
Spread Love, It's The AMG Way (Thanksgiving Day Give Back), brought a buzz of activity to the Corner of Marcy Ave. and Fulton St. Brooklyn, New York. The event's commendable goal was to provide food, clothes, and entertainment to the borough's needy, in order to help improve their quality of life. Artists from across Brooklyn lent their support and talent to the worthy cause. With one in four Brooklyn residents living in poverty, of which thousands are young children, initiatives like this are a necessity on the charitable landscape. Some of the artists who attended may be struggling themselves, yet they chose to give whatever they could, in order to make others' lives a little better.
Organizer of the event, and CEO and Founder of AMG, Josh Walker, was out in full force with members of his team and others dedicated to the vision, "There's a lot of people in need for the holiday season, so we're just trying to do something to give back and provide for those that don't have a lot," he said.
I had the pleasure of meeting Walker at Neighborhood Start Fund, which is a 'neighbourhood-specific fund to support entrepreneurs and start-ups from undeserved areas'. The drive and dedication of this young man and his crew, and their desire to lend aid to their community, is the stuff of inspiration, and I was happy to have been able to support their event.
It was a most beautiful fall day and everybody was just in a great mood. This is the Generation Y we hardly see portrayed in the media and it's probably because they are not in trouble. They are smart, energetic, connected and know how to make things happen. Starting at 10 am on their off day, they showed up and showed out. Sorting food, bags of clothes and the best part; having a great time serving close to 300 people till 2 pm. I had fun just watching them!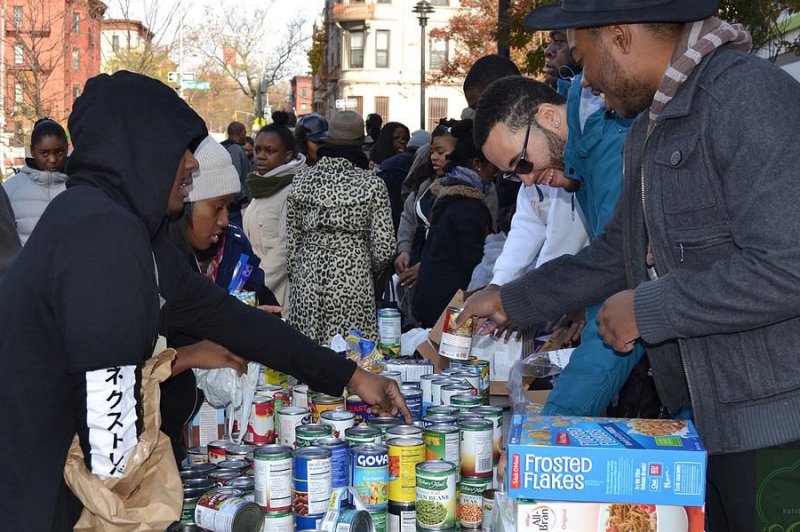 On my way to the train I got the chance to make my Thanksgiving even more worth a while. Right at the corner of the A train at Nostrand ave was a man sitting next to his rollator. When I told him that there was food two blocks away, he looked at me thankfully but at the same time made clear that those two blocks that I was pointing out, were quite a distance for him. I felt super silly went back with my healthy legs and got him sandwiches, the turkey dinner that was provided by the artists from AMG_er and two Mandarin oranges I had purchased.
So this Thanksgiving I was mainly happy to have spread the love together with AMGer and have given back.
Overall the day's success can be summed up by the words of poet and artist Mojo Disco, "We have community, because the community power is real and we're here, and we care."
Please feel free to share your Thanksgiving story.
Video
Picture Credit- Triton Lewis